Cat Butt Magnets are the thing you never knew were a thing. It seems at some point, a creative cat owner decided to make the most unique part of our cats into simple fridge magnets. Little did they know how far this little idea would go and how much people would love them. Now cat butt magnets are very much a thing, and they come in all different shapes, sizes, and styles! They are seriously cute, and would make the perfect gift for any cat owner or cat lover. I mean really, who among us wouldn't want some cute little butt magnets to place around the house! Let's take a look at some of the more popular ones on the market.
Kikkerland Cat Butt Magnets, Set of 6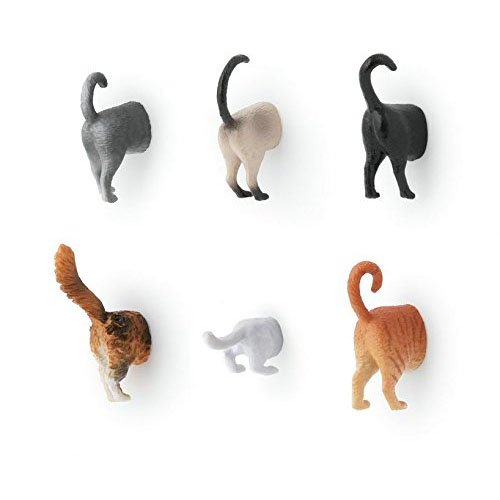 I think Kikkerland was one of the first companies to make these cute little cat butt magnets; they make a whole line of other animals such as whales, dogs, and even shark butt magnets, so it only made sense they did cats as well. The little magnets are quite small, and were made for decoration only, so you wont be holding up your keys or anything with them. They are about 2 inches tall from toe to tail and about .75 of an inch wide, so they are big enough to notice and be fun without being too crazy. With this set you get 6 different cat butt magnets from six different cats in different poses, so it really give you a lot of variation. They are super cute and make a great affordable gift since they only cost about $10.00.
Cat Butts (Blue Q Kits)
Something a little different this time, the Blue Q Cat Butts Kit and Book. Unlike the other cat butt magnets, these ones are flat 2D magnets that we're more accustomed to. What is super cute about this set is that it's made to be a fun gift box, including a little book that helps you identify cat butts, 5 cat butt magnets, and 1 extra hair ball magnet. The included book has 32 pages and is considered a field guide to cat identification from their butts (obviously you're not actually supposed to use it, but the idea is really cute). The magnets are again fairly small and wont be taller than 2 inches, they are normal vinyl magnets so they also won't hold much weight; maybe a business card per cat butt at most. This whole little set is designed to be given as a gift and is super affordable at about $7.00 from most places.
Megrocle Cat Animal Butt Magnets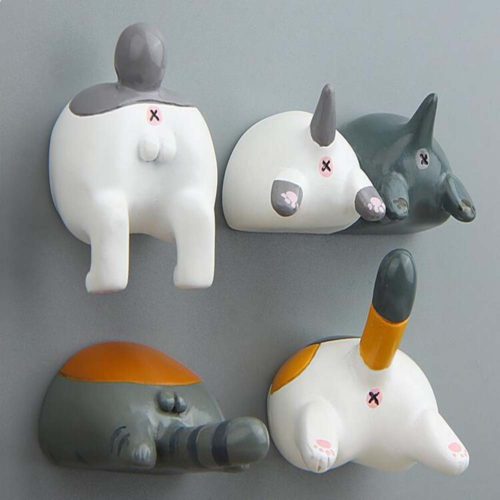 Our next set is in a different art style, a little more inspired by the cute asian cartoon image. The Megrocle Cat Butt Magnets are not realistic at all, but they have a super fun look to them, and even include more interesting parts of the cat. These magnets come in a set of 4 and have different cats and poses for a great variety. One of the magnets, seen in the top right of the photo, is actually 2 cats laying down next to each other in the same pose which has been made into one magnet. The magnets are made of a hand painted clay material and are, once again, smaller than 2 inches tall. Like the other magnets these ones are also only made to hold paper, menus, or business cards to a metal surface. Their painted clay material and size does make them a bit more expensive at about $14.00 for the set, but the style is really unique and might just be perfect for you.
Megrocle Cat Animal Butt Magnets
Once again our friends at Megrocle have come up with another very unique design as they try to corner the cat butt magnet market. As you can tell, this set of 4 magnets has nothing but Tom's in it, but if you're looking for a gift to get a reaction out of someone then this is the set. These magnets are still under 2 inches in size, but they are much wider than the other ones that we have looked at, so you should be able to support a spare set of house keys on the tails of these guys without much a problem. The magnets are made of a rubber material and do not have the same hand painted look as the other ones by the same brand. This set is all about the size and visual impact of your cat butt magnets, so if you really want the biggest reaction or are looking for a great gag gift, these are the ones you want. At about $15.00 they are the most pricy of all of the other options, but they are also the most unique for sure.