As cat pet owners, one of the biggest hassles we face is pet hair. All day, every day, our pets seem busy spreading their furry love all over our homes, clothing, and floors. It is a constant battle with which we never quite seem to win. But now, with the amazing advances in technology, we have a new weapon in our fight against pet hair: The Robot Vacuum!  The day it was created was as if the heavens opened and a great angel came down, trumpeting a victory against pet hair! (Ok, maybe I'm going just a little overboard there). As a very lazy pet owner, I have decided to offload the majority of my pets care to the robots; robot litter box, robot cat feeders, etc. So the obvious next step is, of course, the robot vacuum! Now let's get started, shall we?
What is the main benefit of having a robot vacuum for pet hair? Automation. The absolute best thing about these little robot vacuums is that they're programmable, so they do the work while you're not at home. At work in the office all day? Don't feel like vacuuming when you get home? Wanna go to a movie? Not a problem! You can program your vacuum to run every day while you are out of the house, and you will happily come home to a neat and tidy floor without ever seeing the war against pet hair your robot fights for you each day. This right here, this is the gift from heaven. If you buy a fancy enough model, they will also have internet connectivity, and even smart phone apps so that you can control your vacuum from anywhere in the world. You know you are living in the future when even your little vacuum has a smart phone app!
So you've heard all of the hype by now, but how do these little things even perform? If they were so great clearly everyone would have one by now, right? Well, here is the thing. When they first came out years and years ago, there was pretty much only the one company, Roomba. At the time, the robots were pretty new, kinda loud, not very smart, and awfully expensive; however, the same thing is true with any new technology. The only thing we can do is wait it out until the right time to buy, and I am going to tell you, the time to buy is now. The robot vacuum industry has exploded with new companies, new innovations, better performance, and reasonable prices. No longer do we have just the one brand and one model, now robot vacuum manufactures are actually making specific robot vacuums just for pets and pet hair. Prices on these new vacuums start at $200, so they won't even break the bank anymore. While I know $200 still seems like quite a lot, it absolutely makes up for it over time in reduced cleaning time and stress alone. Coming home to a clean house with no stress and no worries pays for its self.
Have I convinced you yet? Probably not quite yet huh? Well let me walk you through 3 options of robotic vacuums and then we will see what you think. Onwards to vacuum number one!
ILIFE V3s Robotic Vacuum Cleaner for Pets and Allergies Home, Pearl White
The ILIFE V3s Robotic Vacuum Cleaner for Pets and Allergies Home, Pearl White is one of the best values for your money in terms of a robot vacuum made specifically for pet owners. It does it all, vacuuming, sweeping, and dry mopping in one unit. So as your little robot roams around your home, the bristles sweep about feeding pet hair and debris into the vacuum mouth, while the rear of the robot wipes the floor down with an optional microfiber cloth. The robot is designed for hardwood floors, but it will also work well on shallow depth firm carpets, so as long as you don't have fluffy or shag carpet you should be fine.
Unlike the old school robot vacuums you may have heard of, the ILIFE V3s has a very cool front sensor ray which keeps it from whacking into everything around the house. This was always a problem with the early models of robot vacuums, but almost no vacuums need to actually bump into stuff to know it's there anymore. See, told you they were getting smarter and better! Using its fancy sensors, your ILIFE V3s will avoid furniture, steps, and stairs with no worries.
What makes this unit special and pet specific is that it has two sets of front sweeper arms that gobble up debris and tons of pet hair into the awaiting vacuum mouth. Some robots only have one arm on one side which they use to get into corners, so you have the advantage here for sure. These two sets of longer cleaning arms are great at picking up light and fluffy pet hair that likes to float around on our floors, so you will never miss a spot. The ILIFE V3s also includes a HEPA filter for dust and allergies (If you didn't know, having a HEPA filter on your vacuum will stop 99% of particles from getting blown into the air by your vacuum; this is a very important feature for pet owners and people with sensitive allergies to dust or pets).
Like all other robotic vacuums, the ILIFE V3s is fully programmable, and has a remote control for on demand starting of the robot. It charges itself at a little docking station that you plug into the wall, so when it's done cleaning, the vacuum will automatically find its way back home and recharge its batteries. The only thing you will need to do is empty its dust bin each day, since it will be pretty full of all of that pet hair we're talking about.
Finally, what are some of the downsides to this model? Well, because the ILIFE V3s is really much more of a sweeper than it is a vacuum, it has the two main brushes and vacuum mouth as I have mentioned, but it does not have a spinning brush for carpets. While it can be used on firm short carpet, it's really just a surface cleaner that sweeps up free floating dirt and hair rather than a deep cleaner. This could be a problem for some people, but if you schedule the robot to run each day while you're at work, then you shouldn't have all that much deep pet hair anyway. However, if you have a fully carpeted home and various shag like rugs, then this probably isn't the model for you.
Pros
Super Affordable at only $179!

Perfect for Hardwood or Tile Floors.

HEPA Filter for 99% Cleaner Air.

3-in-1 Unit Sweeps, Vacuums, and Dry Mops.

4-Star Rating and 1200+ Reviews.
Cons
No Spinning Brush Head for Deep Cleaning

No Internet Connectivity.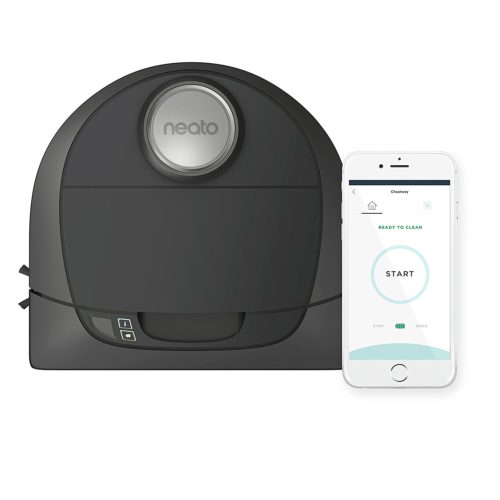 Neato Botvac D5 Connected Navigating Robot Vacuum – Pet & Allergy
With the Neato Botvac D5 Connected Navigating Robot Vacuum – Pet & Allergy we are going to be taking things up a notch. This little robot blows the last one we reviewed out of the water; it's hard to even know where to begin. Designed for pets and allergies, the Neato D5 has a front mounted spinning brush and a much larger storage bin for hair and debris. Instead of an array of sensors, the Neato D5 has a full laser guided system on the front to tell the bot where it has been and where it is going (I feel I need to make an Austin Powers joke about having a robot vacuum with 'freaking lasers on its head'). Not only that, but this robot vacuum is fully connected to the internet and your devices. It can be fully controlled with your mobile phone and will send notices when you are away, telling you when it's started or stopped cleaning.
One of the key features of the Neato D5 is its fancy laser guidance system and house roaming pattern. Older bots and cheaper bots basically just roam around the house, vacuuming all willy-nilly as they bump into or avoid other objects, you come home and ugh! It's missed that spot by the bed again! Well, not with the Neato D5. This thing is insanely smart; it will start out by following around the walls and, once it knows the boarders, will begin a logical sweep back and forth through the area it now knows. It's aware of exactly where it has been and it will never miss a spot. This also means it is fully aware of other rooms in your house, and will know if it's gone into them or not. Other bots may get caught bouncing around in a bedroom trying to find a door out, but the Neato D5? Nope. It knows exactly where the door is and will drive right out just as easy as it came in. But wait, there's more! The Neato D5 has a 2 hour battery life as it roams around and cleans, but if it hasn't finished the whole house in that time, it will go back to its dock, recharge its battery, and then go back to the original spot where it left off and begin again! The Neato D5 has a High Capacity Lithium-ion battery which can clean a 4500 sq ft home in a single charge.
The Neato D5 features a unique D shaped robot design that allows it to get closer into corners than a traditional round robot. It also has a single sweeping side brush to pick up the tiny stuff that is closer to the wall than the robot can get to. It doesn't need two front mounted sweepers like the ILIFE V3s above, because the Neato D5 has a large spinning front brush like a traditional vacuum. This allows it to suck up everything in its path as it runs it over, no sweeping required.
Since this robot vacuum is from the Pet and Allergies line, it does feature an advanced filter system which will nearly eliminate all dust and allergies from the air. The air filters are super easy to remove and replace, and Neato even sells air filters for 3 different levels of filtration. So if you wanted to save a bit of money and didn't worry about the allergies, you could always downgrade the filter to one a little cheaper. The D5, like nearly all robotic vacuums, uses a boundary system that allows you to tell the bot which areas are off limits. For the Neato brand, these boundaries are little magnetic strips that you place across the floor. When the Neato D5 comes to a strip, it stops and follows along the strip as if it was a wall. This is super handy for keeping your robot out of places where you don't want it to go, like around a TV with multiple cables for example.
The Neato D5 is pretty expensive though, with all of this technology it starts at $599, but you are getting a heck of a lot of robot vacuum for your money. However, if money is a problem, you could always check out the Neato D3, which is the little brother of this model. The Neato D3 is $399 and features nearly all of the same features of the D5, with a few minor differences. The D3 does not have the side spin brush for edges, it has a smaller battery for 1800 sq ft cleans, it has a downgraded air filter (which can be replaced), and it does not have the ability to have boundary edges. So no boundaries, cheaper air filter, no side brush, and smaller battery life, but it's $200 cheaper. If you had a smaller home or smaller budget, the D3 may be better for you. If you have a larger home, more rooms, and areas you need to be off limits, then you won't find much better than the Neato D5 for the money.
Pros
Neato D5 is $599 and D3 is $399

Perfect for Hardwood, Carpet, and Rugs.

Mobile Device Controls inc. Appel Watch.

Smart Mapping to Never Miss a Spot.

Smart Resume System Picks Up Where it Left Off.

Great for Large Homes. 4500 sq ft and above.

Care System to Barely Touch Objects.

Advanced Filter Cleaner Air.

Quite Eco and Turbo Modes.
Cons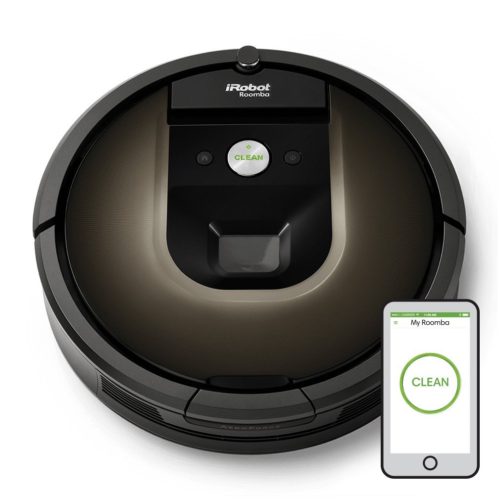 iRobot Roomba 980 Robotic Vacuum Cleaner
The iRobot Roomba 980 Robotic Vacuum Cleaner is pretty much the top of the line. It sets the bar which all other robot vacuums try to follow. iRobot was the first company to make these robot vacuums and it has been the standard for years now. The Roomba 980 is the pinnacle of all of iRobots years of making these robot vacuums, and has every best feature they have, so let's look at what the absolute top of the line robot vacuum gives you!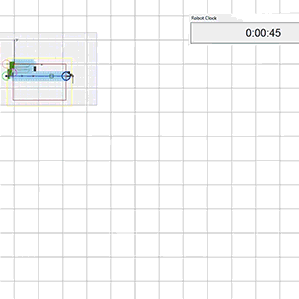 The first thing we have to mention is the navigation system in the Roomba 980; above all else, this is one of the reasons you would get this model over the others. The Roomba 980 uses a combination of sensors and a main camera system called VSLAM (Visual Simultaneous Localization and Mapping) which actually maps out the entire floor plan of your house. Previous Roomba's would avoid objects and bounce around your house, but they never saved a full map of your floor plan for later use. The main camera captures images of your home and then uses a built in software to map it out and know where everything is located. Don't worry about privacy concerns though, the camera system is still not smart enough to actually make out what any of the objects are. It knows something is there only by the change in colors it sees, but it doesn't know if its a chair, couch, or tv stand. Check out the image to the right and you can see a sample of how the Roomba 980 fully maps out a house as it cleans up.
For cleaning, the Roomba 980 has a triple attack method of side sweeper arms and a dual brush intake system at the vacuum mouth. These two rotating brushes spin in opposite directions, which is supposed to clean more effectively and avoid being tangled up by long hair and strings. This gives you an edge over units like the Neato and other robot vacuums, since they only feature one spinning brush head. Like the other Roomba's, the 980 has a single side sweeper arm which picks up dust and dirt along edges and corners. It also features a HEPA filter for 99% removal of dust and particles.
The Roomba 980 has a long life, high capacity, two hour battery and can clean a 4500 sq ft home on a single charge. It is fully capable of returning home on its on when the batteries die, and if its job was not completed it will go right back where it left off after it recharges (features like these are only found in high end robot vacuums!). It is also fully internet connected, and works on command with the iRobot smart app for your mobile device, so you can set up your cleaning options, schedule cleanings, and monitor its progress all from your mobile device.
Another unique feature of the Roomba line is the use of visual boundary towers; these are small towers you set up around your house that act like invisible walls. They cast an invisible beam between each other or around themselves, which tells the robot to keep away. This is great if you are highly worried about the visual impact of having your robot vacuum around your house.
The Roomba 980 is the cream of the crop for sure, and has every bell and whistle you could hope for, but it does come at a price. The Roomba 980 is a whopping $899, making it the most expensive robot vacuum that we have looked at. However, it has many high end features, so if you are looking for the best of the best then this is going to be the robot you want.
Pros
Perfect for Hardwood, Carpet, and Rugs.

Smart Mapping to Never Miss a Spot.

Smart Resume System Picks Up Where it Left Off.

Great for Large Homes. 4500 sq ft and above.

Care System to Barely Touch Objects.

Advanced Carpet Vacuum Boosting System.
Cons
Most Expensive on the Market.
Final Thoughts
Picking a robot vacuum really depends on your budget and the features that you are looking for, and there are many brands and models that we didn't cover in this article. I tried to cover 3 different types of buyers and 3 different price ranges, but really, the sky is the limit here. If you are looking for your first robot vacuum and don't have a large budget to spend, you will still be able to get a great product which will help pick up pet hair from around your home in between major cleanings.
If you are serious about your cleaning and want the best robot vacuum that your money can get you, then I highly recommend the Neato D5, which we featured above. It has nearly all of the same options as the Roomba 980 and even some extras like Eco and Turbo Modes. You are getting a heck of a lot of machine and features packed into the $600 Neato D5 vs the $900 Roomba 980. I expect big things from Roomba in their new models, but for right now the best you can do is the Neato D5 for your home and your pets. I personally own the Neato D5 and I can't tell you enough just how perfect this robot vacuum is; it's everything you'd expect from a robot vacuum and more.